I've changed the GPSLog Labs upload form a little, partly to make it nicer looking and less cluttered, but mostly to make the purpose of Devices a little clearer.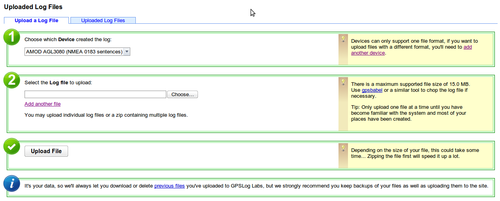 Previously, the choice of device to upload to wasn't shown on the form if you had only one device, and now it will always be given.
To process the log files you upload, the system needs to know what the format of the file is. When you first upload a file, there is a page that automatically detects this format, but that isn't practical to do for every file that is uploaded, so the setting is stored in a "device". This means that each device can handle one format only, and therefore, if you want to upload files with a different format you'll need to create another device to do so.
The other purpose of devices is to track battery life. If you upload all logs you record, then GPSLog Labs knows how long your logger has been switched on so can predict how much time you have before you need to recharge/replace your batteries and therefore prevent you getting a flat battery in the middle of an activity, which can be rather frustrating!
When the logged usage goes over 75% you'll get a warning:
Marking the point where you recharged or replaced your batteries is easy too: